Appearances
As a former English teacher, Barbara loves to talk to kids about writing! She's happy to do both large-group talks (with plenty of interaction) and small writing workshops for grades 4-8. Let her know your needs–she can do or adapt any of the following:
A reading from any of her books, followed by a freewheeling Q&A
Interactive talk: "How Writers Get Ideas"
Creative Writing Workshop: "Creating Realistic Characters"
Interactive Talk: "How to Do Research for Fiction"
Interactive Talk: "How to Write about Challenging Topics in a Kid-Friendly Way"
In-person school programs are about one hour long including Q&A with students, plus book-signing time. Barbara offers half-day and full-day visits.  She'll do up to four programs in one visit, and is comfortable with any size audience.
Contact Barbara about reasonably priced Q&A virtual visits for groups (of at least ten) that have read any of her books. Barbara also enjoys speaking to groups of adults—teachers and librarians, parents, graduate and undergraduate classes.
To schedule an appearance, please email: [email protected].
Books can be ordered through Barbara's publisher: [email protected].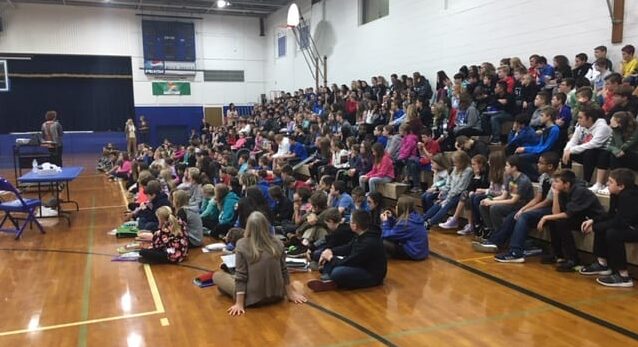 Testimonials:
"On behalf of our seventh grade students and staff, we would like to thank you for sharing your time and talents with us! Everyone found your presentations incredibly positive, enlightening, and fun! We received many, many compliments and thanks." —Mary Yockey, Library Media Center Director, Crone Middle School, Naperville, IL
"I heard absolute raves about Barbara from all four teachers and many of the kids." —Arlene Phalon Baldassari, Parent, Chair of Literacy Week, Stevens Cooperative School, Hoboken, NJ
"Barbara's love of writing for children came through loud and clear, and the kids responded with great enthusiasm. Barbara's candor, tips, "secrets," and humor made becoming a writer an exciting and achievable goal." —Ilene Glickman, Head of Children's Services, Irvington Public Library, Irvington, NY
"Barbara—We cannot thank you enough for your wonderful presentation! You were so inspiring to the student writers and readers. We know they will enjoy reading your book, and maybe writing their own. You tackled such a difficult subject, but in a way that's so accessible to your middle grade audience. We are lucky to have your book to begin the much needed conversation." —Kathie Weinberg, An Open Book Foundation, promoting literacy in the Washington, D.C. area
"Our fourth grade students found Barbara's presentation inspirational, funny and poignant." —Lydia Orloff Kroeber, Library Media Specialist, Mary Tisko School, Branford, CT