For seventh grader Mila, it starts with some boys giving her an unwanted hug on the school blacktop during a surprise birthday celebration.
The next day, it's another hug. A smirk. Comments. It all feels…weird. According to her friend Zara, Mila is being immature and overreacting. Doesn't she know what flirting looks like?
But it keeps happening, despite Mila's protests. On the bus, in the halls. Even during band practice–the one time Mila can always escape to her happy "blue-sky" feeling. It seems like the boys are EVERYWHERE. And their behavior doesn't feel like flirting–so what is it?
Mila starts to gain confidence when she enrolls in karate class. But her friends still don't understand why Mila is making such a big deal about the boys' attention. When Mila is finally pushed too far, she realizes she can't battle this on her own, and she finds help in some unexpected places.
From the author of EVERYTHING I KNOW ABOUT YOU, HALFWAY NORMAL and STAR-CROSSED comes this timely story of a middle school girl standing up and finding her voice.
A 2020-2021 Project Lit selection
ALA Notable Children's Books 2020 (Middle Grade–Older Readers).
ALA 2020 Rise: A Feminist Book Project List (Middle Grade–Fiction).
One of the Washington Post's Best Children's Books of 2019.
One of the 2020 Bank Street College of Education Best Books of the Year.
CBC 2020 Notable Social Studies Trade Books for Young People.
Nominee for 2021 Rhode Island Middle School Book Award
Nominee for the 2020-2021 Maine Student Book Award
On the Wisconsin State Reading Association's 2020 "Just One More Page" Recommendation List
Nominee for the Maryland Association of School Librarians 2020-2021 Black-Eyed Susan Book Award, Grades 6-9
Nominee for the 2020-2021 Vermont Middle-Grade Children's Book Award
A 2019 Cybils finalist (Middle Grade Fiction).
On the 2019 Middle Grade Fiction Nerdies list.
A Mighty Girl's 2019 Books of the Year.
One of Betsy Bird's Best MG Novels of 2019.
One of Pernelle Ripp's Best Books of 2019.
A Denver Public Library Best & Brightest Chapter Books of 2019.
Listen to SLJ's The Yarn podcast naming MAYBE HE JUST LIKE YOU Colby Sharp's favorite MG novel of 2019 (starting at 10:22).
Read my post on SLJ's Teen Librarian Toolbox blog.
Read "15 Empowering Middle Grade Novels for Kids Interested in Social Justice" and "5 Poignant New Middle Grade Novels That Tackle Bullying" on BNKIDSblog.
Check out the Reading Group Guide for MAYBE HE JUST LIKES YOU.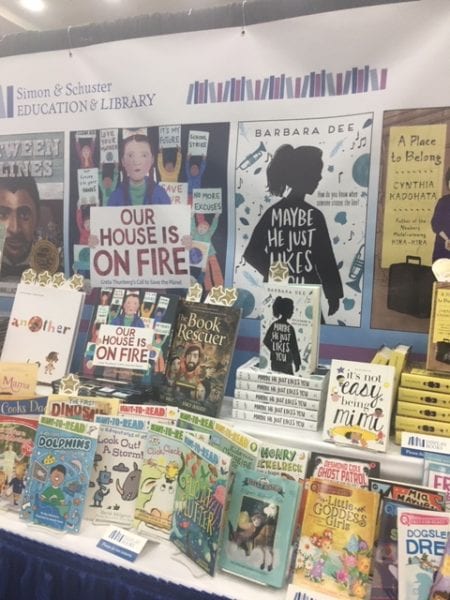 NCTE 2019
Aladdin/Simon & Schuster, Hardcover
ISBN 978-1-5344-3237-6
Ages 9-13

"Sensitively wrought … a springboard for discussion among middle schoolers.  Easily grasped scenarios and short chapters help make this timely #MeToo story accessible to a wide audience"
Publishers Weekly, Starred Review

Read Colby's review on NerdyBookClub
Colby Sharp, Teacher; Founder, Nerd Camp

"Barbara Dee brings the #MeToo conversation to a middle-grade audience with nuance and authenticity. An important book."

"Important for its relevance and examination of the otherwise little-discussed topic of sexual harassment among younger teens, MAYBE HE JUST LIKES YOU will appeal to middle-grade readers as well as parents and educators. In both Mila and Max, readers will find tenacious characters who model bravery in the midst of adversity."

"This relatable text provides young readers with a believable example of what sexual harassment may look like and feel like at a middle school level … Told from Mila's point of view, the novel is at its best in moments of emotional intensity.  VERDICT: An important read with great potential for classroom use."

"I love this trend in MG fiction of covering heavier topics in a well written, age appropriate way.  Right now no one is doing this better than Barbara Dee and dare I say this is her best work yet.  I devoured this book in one sitting, rooting for Mila … Do not be afraid to put this book in the hands of every reader–regardless of age or gender. With Maybe He Just Likes You, Barbara Dee has created a book that will define this generation, much like Judy Blume defined mine."
Kathleen March, Children's Manager, Anderson's Bookshop, Downers Grove, IL

" … Realistic and heartbreaking, until the cathartic moment a teacher finally labels the behavior as sexual harassment. This would be an excellent choice to inspire conversations about the prevalence and scope of what's considered sexual harassment, as well as help young readers identify what harassment could look like in their peers."
Bulletin of the Center for Children's Books

"Great, important, REAL book.  Order this for your libraries, hand it to your middle schoolers, get it up on displays, use it for starting points for discussions. … Will inspire much-needed conversations for middle grade readers and the adults in their lives."
Amanda MacGregor, Teen Librarian Toolbox, School Library Journal

"A book all middle school-aged students should read and discuss. … This title belongs in the school library as well as the classroom library. It is perfect for book clubs in middle school, serving as an excellent literary tool as well as a tool for discussion of how we should treat one another. Highly recommended."
School Library Connection

"Timely and important, this empowering book draws a clear line between wanted, reciprocal flirtation and Mila's experience, and explores issues of sexual harassment in a manner relatable to middle grade readers."

"This is a spot-on portrayal of middle school sexual bullying that's also a gripping and heartwarming story."
"5 Poignant New Middle Grade Novels That Tackle Bullying," Barnes & Noble BNKIDSBlog

"Empowering and important for readers of all genders."
"15 Empowering Middle Grade Novels for Kids Interested in Social Justice," BNKIDSblog