Haven Jacobs Saves the Planet
Seventh grader Haven is obsessed with climate change—so obsessed that she has what's called "eco-anxiety." Not only is Haven doom-scrolling compulsively, she's also inattentive in class, not sleeping, biting her nails to nubs as she worries about catastrophic weather events and the worldwide disappearance of honeybees and frogs. An empathetic social studies teacher suggests that Haven focus on something local and specific where she can make a difference. So when Haven's science class begins a study of a local river, she channels her eco-anxiety into a mission to save the water from pollution she believes is being caused by the town's new glass factory—where her own dad works. Can Haven save the river–and maybe even make a difference to the planet too?
From the acclaimed author of MAYBE HE JUST LIKES YOU and VIOLETS ARE BLUE comes an engaging and hopeful novel about the most challenging issue of our lifetime.
One of Kirkus's Five Books to Help Kids Face Our Frightening World
One of SLJ's Two Middle Grade Novels that Explore Climate Change in Different Ways
One of SLJ's 24 Audiobooks to Encourage Ongoing Activism and Social Justice
One of Book Riot's 12 Must-Read September Children's Book Releases
Read my guest post (The Toughest "Tough Topic" of All) on SLJ.com's Teen Librarian Toolbox
Read my guest post (The Sound of Middle Grade: Getting the Voice) in Cynsations
Read my cover reveal on Nerdy Book Club
Here's the Reading Group Guide
Aladdin/Simon & Schuster, Hardcover
ISBN 978-153-448-9837
Ages 9-13, Grades 4-8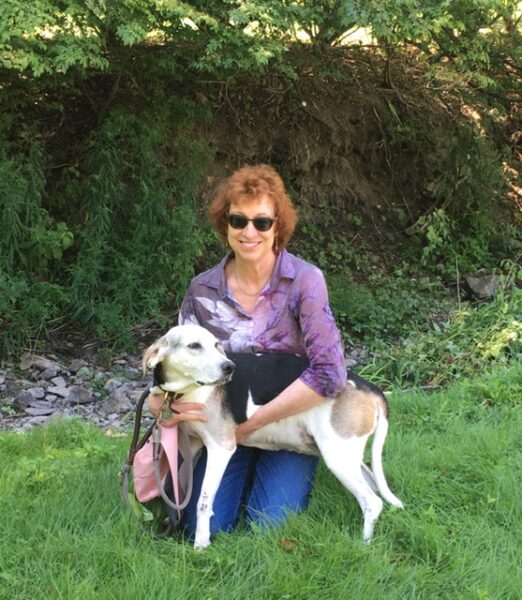 Ripley and I are in front of the stream that inspired the Belmont River Project in Haven Jacobs Saves the Planet. (You can see that we had a drought this summer.)

Middle grade author and tough topics expert Dee returns with a thought-provoking look at the very prevalent, but little known, issue of eco-anxiety and how it is affecting our youth. … Dee has deftly brought the important topic of eco-anxiety to the fore, while developing a wonderful story about juggling normal middle school worries such as friendships, crushes, and sibling issues."

"Dee explores the growing pains of a thoughtful and aware tween navigating everything from large-scale matters to jealousy to crushes. Her timely middle-grade novel is a sound character study …. A powerful depiction of the impact of climate change on a young activist's mental health."

"As Haven wrestles with big issues, she also struggles with the social challenges of middle school, including changing friendships. A new company in town, which employs Haven's father and has recently revitalized the community, contributes nuance to a plot about environmental and social ethics. Though Dee (Violets Are Blue) offers no easy answers about how an individual can make a significant impact, Haven's endeavors are earnestly wrought, and her compassionate heart and interpersonal conflicts balance the book's environmental thrust."

"Barbara Dee is an auto-read author for me. Her middle grade books are consistently well-written, interesting, and tackle important topics. … A thoughtful and potentially eye-opening read about one of the most significant issues we're facing."

"Holding a special appeal for young readers with an interest in protecting the environment, recycling and 'Green Living,' Barbara Dee's new novel HAVEN JACOBS SAVES THE PLANET is an especially and unreservedly recommended edition to elementary school, middle school, and community library collections."

"Once again, Barbara Dee has created vivid, real, likable middle school characters who tackle big problems. Full of humor, science, and activism, HAVEN JACOBS SAVES THE PLANET addresses the eco-anxiety that many young people feel. Readers will cheer for Haven and her friends as they navigate complicated friendships and act to help save their town's river…and, just maybe, the planet."
Rajani LaRocca, author of Newbery Honor book Red, White, and Whole

"As readers keep turning the pages of this accessible and immediately engaging narrative, they will discover in Haven Jacobs a relatable, believable protagonist with an indefatigable spirit."
Padma Venkatraman, author of Born Behind Bars and The Bridge Home

"Dynamic, engaging, and full of heart, HAVEN JACOBS SAVES THE PLANET is the voice of a generation of kids who care deeply about the environment and want to put hope into action."
Chris Baron, author of All of Me and The Magical Imperfect

"Relatable, achingly imperfect, and inspiringly hopeful, Barbara Dee's characters jump off the page. Readers will cheer for Haven as she discovers that—in spite of our fears—we all have the ability to do small things greatly."
Jodi Lynn Anderson, bestselling author of My Diary From the Edge of the World and the Thirteen Witches trilogy

"An empathetic exploration of youth eco-anxiety that provides comfort, hope, and ways to cope in an uncertain world. Barbara Dee's deeply developed and beautifully flawed characters navigate the ups and downs of friendships and family relationships as they face a local environmental crisis head-on in this crucial, timely, and engaging novel."
Lisa McMann, NYT bestselling author of The Unwanteds series

"I loved this book! Haven Jacobs is full of heart, healing, and hope. This story will leave readers inspired, energized, and ready to change the world."
Carrie Firestone, author of Dress Coded and the First Rule of Climate Club

"A powerful and pitch-perfect story that will inspire readers to take action and fight for change."
Alyson Gerber, author of Taking Up Space and Focused

"Another wonderful middle-grade novel from Barbara Dee. I can't wait for kids to meet Haven."
Colby Sharp, educator and author